PLENARY TRACKER #2
Garratt Publicity
06/23/2022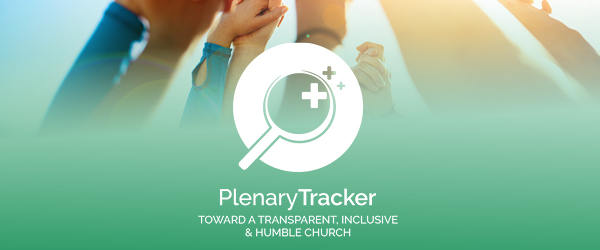 Plenary Tracker #2
a daily Zoom with exclusive news, insights, and panel discussions
hosted by respected former ABC presenter Genevieve Jacobs AM and Walkley Award-winning journalist Paul Bongiorno AM.
Every night from Sunday July 3 to July 8 at 7.30 AEST, Plenary members and insiders summarised, highlighted, and discussed the day's events from the second Australian Plenary Council. A variety of guests appeared. Click here to view their biographies.
Plenary Tracker #2 was brought to you by Concerned Catholics Canberra Goulburn in partnership with the Australasian Catholic Coalition for Church Reform and with the support of Garratt Publishing.
Recording of all episodes of Plenary Tracker #2 are available to view below.
BLOGS and PODCAST
> John Warhurst's blog, Plenary Insight.
> Francis Sullivan's blog.
> Australian broadcaster and Catholic Geraldine Doogue's podcast, Plenary Matters.
YOUR SUPPORT IS APPRECIATED
Plenary Tracker #2 is presented free of charge. Any financial assistance you are able to provide CCCG & ACCCR to aid with the costs of organising these significant events, and keeping them accessible to all, would be greatly appreciated.
Donations can be made at the following link: https://www.mycause.com.au/page/286588/plenary-tracker-2

Importantly, all funds raised will go towards the renewal of the Catholic Church through engaging the people of the Church. To find out more visit: www.acccr.com.au and https://concernedcatholicscanberra.org/
PLENARY TRACKER #2 EPISODES
EPISODE ONE – 3 JULY
EPISODE TWO – 4 JULY
EPISODE THREE – 5 JULY
EPISODE FOUR – 6 JULY
EPISODE FIVE – 7 JULY
EPISODE SIX – 8 JULY


PLENARY READING
HARD QUESTIONS BORN OF LOVE
My Journey through the Plenary
John Warhurst
WRESTLING WITH THE CHURCH HIERARCHY
Engaging with the Plenary Council & Beyond
John Warhurst
A CHURCH FOR ALL
A guide to the Plenary Council ...and beyond
Australasian Catholic Coalition for Church Reform
GETTING BACK ON MISSION
Reforming our Church Together
Catholics for Renewal
For further Plenary Council reading click here.