VIRTUAL BOOK LAUNCH RECORDING
Garratt Publicity
10/11/2023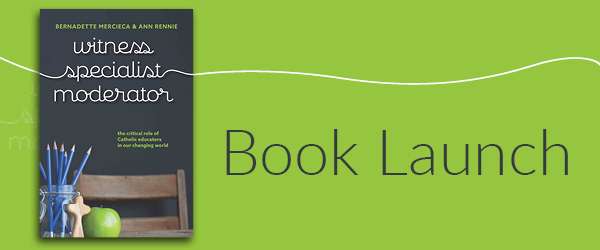 WITNESS, SPECIALIST, MODERATOR
the Critical Role of Catholic Educators in Our Changing World
by
BERNADETTE MERCIECA & ANN RENNIE
was launched on 25 October 2023!
The aim of Witness, Specialist, Moderator is to revitalise and refresh formative religious identity to assure the future of Catholic education. It examines where we have come from, where we are now, and shows that – despite vast social change – faith has a place in modern Australia. Bernadette Mercieca and Ann Rennie have lived this book for decades. Their real-life examples of current methods and theories on RE in Australia have been road-tested within the vigours of the classroom. Reflection questions at the end of each chapter prompt the reader to examine their own hopes and ideas enabling them to gain a deeper understanding of their own vocation. Witness, Specialist, Moderator is a must-read book for every Australian Catholic educator.
Bernadette and Ann lead us on a journey that begins with their own formative years and shows keen insight into the current context of Catholic Religious Education in Australia. They offer concrete examples of present-day approaches and theories that are relevant to RE and other educational settings. The book prompts reflection and meaningful discourse for religious educators across the world. The book leaves us with a sense of hope for the future of Catholic Religious Education.
– Dr Bernadette Sweetman, Post-doctoral researcher Dublin City University
The book was launched by Michael McGirr.
The recording of the launch can be viewed below.
AUTHORS

Bernadette Mercieca
Bernadette is a secondary Religious Education and Maths teacher at Our Lady of Mercy College, Heidelberg, a research assistant at Victoria University, and a Study Specialist for VCE Religion and Society at VCAA. She has a Master of Theology, a PhD in Education, and has been an assessor for both VCE Religion and Society and VCE Texts and Tradition.

Ann Rennie
Ann has over 25 years' experience in teaching in Melbourne Catholic schools. She has Masters' degrees in Religious Education and in Educational Leadership from the Australian Catholic University. Ann has held a number of leadership positions, has been a VCE English assessor, and currently teaches at Genazzano FCJ College, Kew.

LAUNCHER

Michael McGirr
Michael is Mission Director of Caritas Australia. He is the author of many popular books, and has been a regular contributor to both Madonna and Australian Catholics. His essays, reviews and short fiction have appeared in numerous publications in Australia and overseas, including the New York Times and The Tablet. Michael has reviewed over 1,000 books for The Age, The Sydney Morning Herald and The Canberra Times.
WITNESS, SPECIALIST, MODERATOR
The Critical Role of Catholic Educators in Our Changing World
Bernadette Mercieca & Ann Rennie