A Conversation with Dr Phyllis Zagano and Fr Frank Brennan SJ
Garratt Publicity
12/15/2021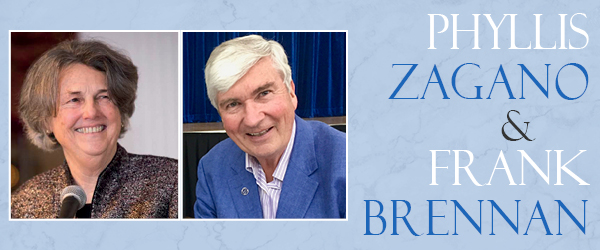 Dr Phyllis Zagano was joined by Fr Frank Brennan SJ on Thursday 9 December 2021 to celebrate the launch of her new book – Just Catholic: The Future is Now. The video of this event is now available to view:
The transcript of the chat can be downloaded here
Australian customers can take advantage of Just Catholic: The Future is Now at the special price of $29.95.
Place your order TODAY with Garratt Publishing.
JUST CATHOLIC, THE FUTURE IS NOW
Phyllis Zagano
Just Catholic: The Future is Now is a particularly timely book given the Australia Plenary Council process. Phyllis speaks to the heart of the Church about ways of the Gospel in today's world. Her prophetic insights to new-old questions bring a fresh perspective for all Christians to consider and Act on.
What people are saying about Phyllis and Just Catholic ...
"Her passion for justice is powerful and universal – in a word it is Catholic. Her measured calls for discernment and Synodality evoke the Holy Spirit. Her grounded and informed attention to injustice at the borders of life and at national borders reflects her lived experience as a woman on the borders of the clericalized Church.
– Fr Frank Brennan, SJ
"These essays show a prophet at work: passionate dogged and not going anywhere because of what's at stake: liberty of spirit thirst for justice, and witness to truth… you can tell that Phyllis Zagano is not the typical prophet, and that's why I find her voice, and this collection of essays, inspirational, urgent, and rightly unsettling."
– Fr Richard Leonard SJ
"In this aptly named collection Dr Phyllis Zagano pulls no punches, yet charitably and intelligently argues for a more just Church".
– Beth Doherty
Author of: All the Beautiful Things: Finding Truth Beauty and Goodness in a Fractured Church, ATF Press 2020
"For decades Phyllis Zagano has been making good trouble, asking unsettling questions of the Church, societal trends, politics and culture… This collection of essays covers an astounding range of topics with sharp insights and sound judgement… Highly Recommended."
– Dr Neil Ormerod, Professor, Sydney College of Divinity
JUST CATHOLIC
The Future is Now
Phyllis Zagano