Voices of Hope and Challenge Conference 2019
Garratt Publicity
08/20/2019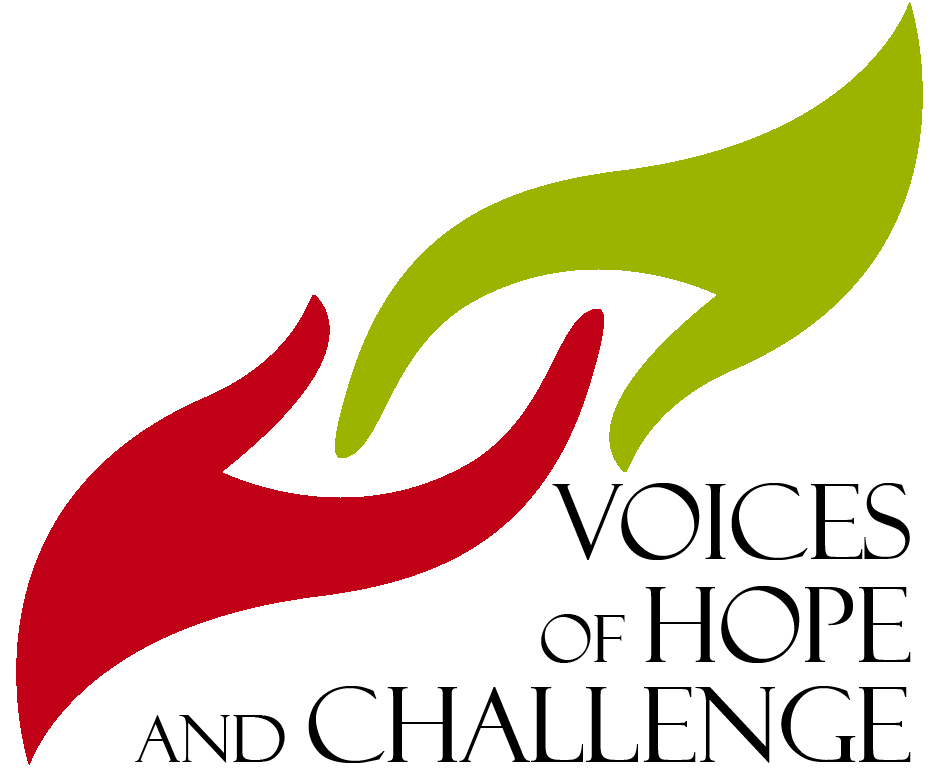 In conjunction with Yarra Theological Union, Garratt Publishing is pleased to present an important conference designed to help faith filled people better understand some of the most important and complex issues that face the Australian Catholic Church, and those that will be crucial to the success of the upcoming Plenary Council.

November's Voices of Hope and Challenge Conference looks ahead to the Plenary and offers Catholics the opportunity to have their voices heard.

Taking on President of the Plenary Council Archbishop Timothy Costelloe's challenge for "all Catholics, whether devout or disillusioned, fervent or frustrated, to seize this opportunity to speak what is on their mind", the conference speakers and participants will all contribute to discerning the sensus fidei fidelium – the People of God's sense of faith realities – in the Australian Church.

"I will pour out my Spirit upon you, your sons and your daughters shall prophesy
Your young shall see visions, and your elders dream dreams"
(Acts 2:17).
It's this quote that the conference organisers considered as we developed our vision for the opportunity we have to renew and reform the Catholic Church in Australia. As organisers we wanted to invoke the wisdom and courage of God's spirit to guide our speaking, and our silences, and to create an open space where God's voice may be heard afresh.

Join an enviable list of Catholic thought leaders including Bishop Vincent Long, Francis Sullivan, Noel Connolly ssc, John Warhurst AO, Robyn Horner, Andrew Hamilton sj, Rosie Joyce csb, Mary Coloe pbvm, Pat Fox rsm, Alicia Deak and Bernadette Keating pbvm and discuss how as individuals you can take up the challenge and drive positive reform in our Church.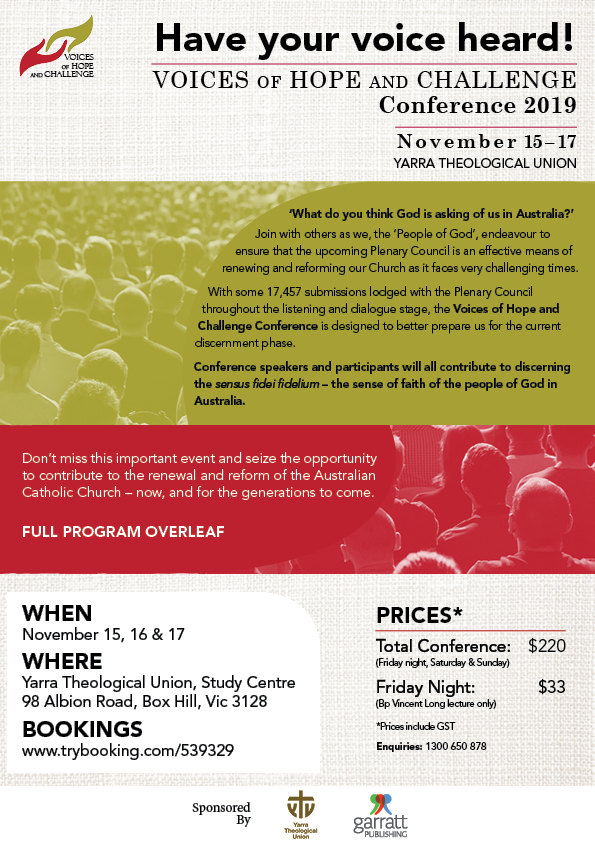 WHEN:
Fri 15th*, Sat 16th & Sun 17th November 2019
WHERE:
Yarra Theological Union, Study Centre
98 Albion Road, Box Hill, Vic 3128

Conference Prices:
Friday 15th Bishop Long evening session, Saturday 16th and Sunday 17th participation – $220

Friday 15th Bishop Long session only – 7.00 pm only – $33

Prices include GST.


Download the full program and brochure here.
We would love you to join us for this important event and be informed by some of the most respected Catholic voices in the country. With some 17,457 submissions lodged with the Plenary Council throughout the listening and dialogue stage, the Voices of Hope and Challenge Conference is designed to better prepare all for the current discernment phase.

BOOK NOW
www.trybooking.com/539329

All enquires, call Garratt Publishing on 1300 650 878 or email us at sales@garrattpublishing.com.au