Creating a Just, Synodal Church
Garratt Publicity
07/20/2022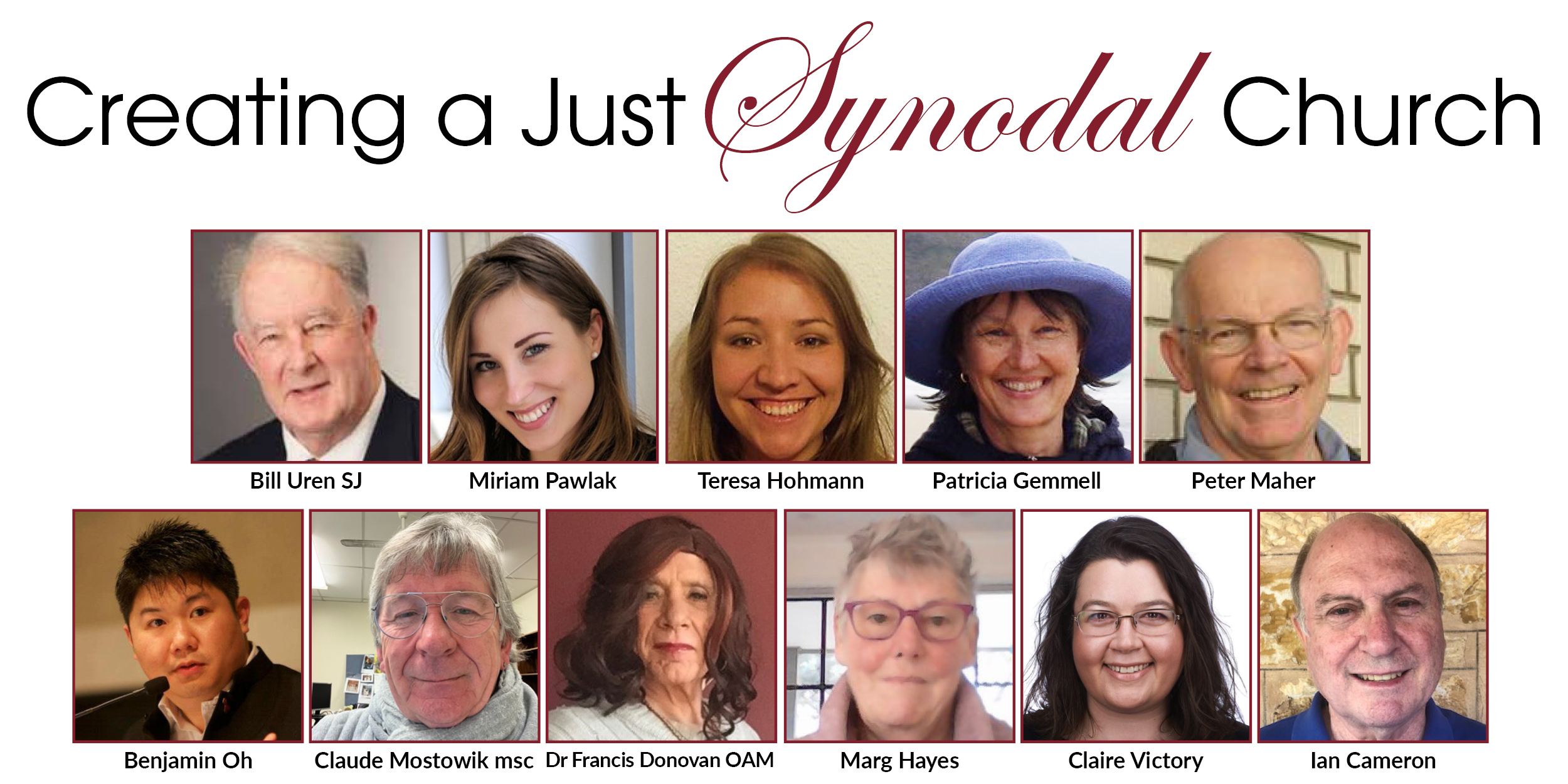 Join us for a series of Zoom events addressing Inclusion in the Church

Following the success of the earlier Building the Church We Need webinar series, we are proud to present a follow up series Creating A Just, Synodal Church.
Brought to you by Yarra Theological Union (YTU), the Australasian Coalition for Catholic Church Reform (ACCCR) and Garratt Publishing, Creating a Just, Synodal Church will address the issues of governance, synodality and inclusion post the Australian Plenary Council's final assembly in July 2022, and the upcoming Synod on Synodality in 2023.
Over 4 weeks, we will explore the Plenary outcomes, the worldwide synod and other synodal initiatives across the globe, Vatican II's vision, and the importance of inclusive participation and leadership.
The first night of Creating A Just, Synodal Church will offer a broad discussion and will involve some scene-setting on the nature of synodality in the context of both the Australian Plenary Council, reference to the Pope's Synod of Bishops on Synodality and other 'synods' around the world.
Bill Uren SJ will introduce the broad topic whilst Miriam Pawlak (Secretariat to the German Synodal Path) shares her perspective on the progress of the German synod that has generated so much attention globally.
The following webinars will address specific issues of the inclusion of women and LGBTQIA+ people in the Church. Over two weeks you'll hear from Patricia Gemmell, Fr Peter Maher, Benjamin Oh and Claude Mostowick msc as they offer their insights into our path forward.
The series will conclude with a webinar addressed by two Plenary Council Members, Ian Cameron and Claire Victory, who will share their unique insights into 'creating a just Synodal Church' in light of the Second Assembly experience.
Join us as we journey to creating a just synodal Church!
EVENT DETAILS
WHEN: Wednesday Evenings – August 10, 17, 24 & 31
TIME: 7:30-9:00pm (AEST)*
WHERE: Online via Zoom
COST: $22.00 incl. GST (covers all four sessions)

We at YTU, Garratt Publishing and ACCCR have proudly partnered to bring you a number of free events in recent years. However, there are some costs in bringing this series of events to you. We must charge a small registration fee to recoup unavoidable costs.
We recognise that some people of faith may be concerned with their finances. Concessions may be available, contact: sales@garrattpublishing.com.au
SESSION DETAILS
WEDNESDAY 10 AUGUST, 7.30-9.00pm (AEST)*
A Just, Synodal Church

Bill Uren SJ is a former Provincial Superior of the Jesuits in Australia and New Zealand and is currently Scholar-in-Residence at Newman College at the University of Melbourne. He has lectured in moral philosophy and bioethics at Murdoch and Edith Cowan universities in Perth, at the University of Melbourne and at the University of Queensland. He was a member of the Australian Government Health Ethics Committee and has served on over twenty Human Research and clinical ethics committees in hospitals, universities and research institutions.
Miriam Pawlak is a Dr of Theology, and Chair of New Testament Studies at Ruhr University in Bochum, Germany. Miriam's interests include Biblical theology, Christology of the New Testament, communication of faith, and hermeneutics of the New Testament. Miriam is currently a Referent in the Office of 'Der Synodal Weg" (the German Synodal Path) with responsibilities for international communication and networking of the Synodal Path, and exchange with local churches and synodal processes of the universal church.


Teresa Hohmann is an International Coordinator for the German Synodal Path. She studied Catholic Theology, trained as an interreligious dialogue facilitator, volunteered at the papal mission organisation missio-Munich and lived and taught in a Tanzanian school for children with intellectual disabilities. In 2008 she participated in the Jesuit organised magis-program in Indonesia and Australia as part of World Youth Day. Teresa is currently doing a doctorate in dogmatics with Prof Julia Knop at the University of Erfurt, Germany.
WEDNESDAY 17 AUGUST, 7.30-9.00pm (AEST)*
Women in a Just, Synodal Church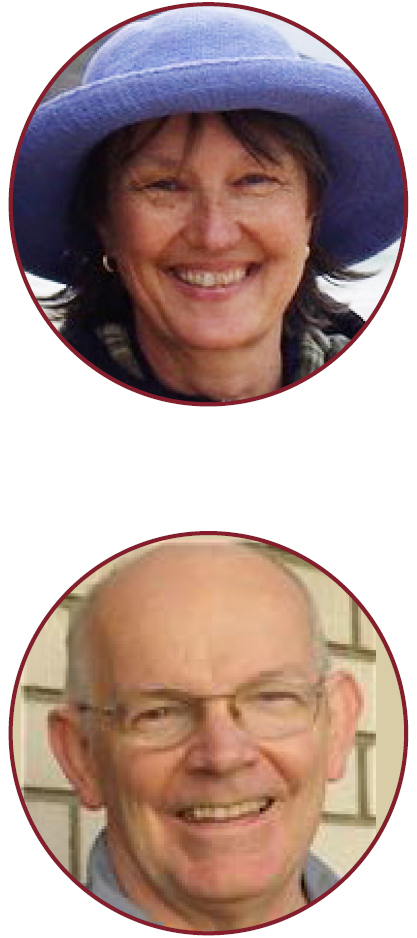 Patricia Gemmell, wife, mother and grandmother, and a semi-retired teacher of French, Latin and Italian, Patricia currently serves on the National Leadership Team of the Grail in Australia and is the coordinator of the Grail's International Spirituality Network. She graduated with a Masters in Theology from Newcastle University in 2014. She is one of the working team responsible for Australian Women Preach, a weekly podcast of women proclaiming the gospel, launched in 2021 as a result of Plenary Council discernment.
Peter Maher is a Sydney Catholic priest now retired from parish ministry. He is editor of The Swag, the National Council of Priests quarterly magazine. He is co-chair of Rainbow Catholics InterAgency for Ministry, Australia. He works with Rachel's Vineyard Retreat Ministries, Sydney in post abortion healing. He sits on the Human Research Ethics Committee of The University of Technology Sydney. His qualifications include Bachelor of Theology from the Catholic Institute of Sydney and Masters in Education (Adult) UTS.
WEDNESDAY 24 AUGUST, 7.30-9.00pm (AEST)*
LGBTQIA+ Inclusivity in a Just, Synodal Church

Benjamin Oh is founder and co-chair of Rainbow Catholics InterAgency for Ministry. Co-founded Equal Voices and the Global Network of Rainbow Catholics. Teaches on intersectionality of LGBTQIA+ realities and human rights with race, religion, culture, and community development. Works also as Pastoral Supervisor to diverse religious leaders.


Claude Mostowick msc joined Missionaries of the Sacred Heart in 1969 and ordained in 1976. Over time, Claude has acted as Director of the Missionaries of the Sacred Heart Justice, Peace and Integrity of Creation Centre, and as President, Pax Christi Australia and Convenor of Pax Christi NSW. His contributions to the Church also includes acting as Research and Publications Officer at Edmund Rice Centre for Justice and Community Education, as chair, Peace and Justice Commission, NSW Ecumenical Council, as a member and former national President of Acceptance.
Dr Francis Donovan is a non-binary transgender person with a background advocating for recognition, inclusion and participation of all LGBTIQA+ Catholics in the Church. A Vietnam veteran with an OAM for service to veterans, including a founder to Open Arms. For over 40 years Francis has provided clinical services support trauma victims, and now supports those who are struggling with their sexuality, gender diversity and late-in-life gender transition. Francis was also a member of the WA Parliament for 6 year, and is an accomplished author and speaker.
Marg Hayes working life has been spent with people living on the margins. She trained as a social worker and then moved into pastoral ministry, working in parishes in low socioeconomic areas before moving into prison ministry. For the past 20 years marg has coordinated Catholic HIV/AIDS Ministry, a ministry of CatholicCare Victoria.



WEDNESDAY 31 AUGUST, 7.30-9.00pm (AEST)*
Post Plenary Council, pre-synod on Synodality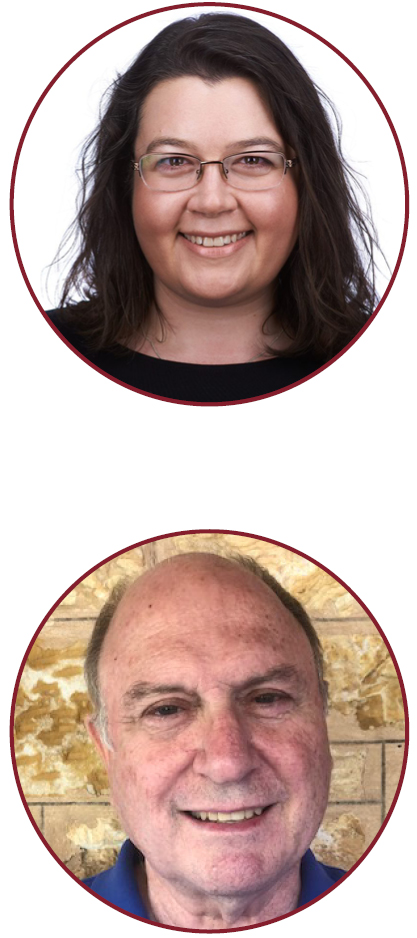 Claire Victory has lived her whole life on Kaurna land. Having worked in private practice for 15 years, practicing primarily in employment and injury law, she currently works as an industrial officer. Claire has volunteered with the Society since the age of 10. Over those 28 years, she has been a member of a parish Young Vinnies group, youth and adult conferences, councils, committees and special works, and also worked as the School Liaison Officer in SA for 3 years. Claire has been a member of National Council of the Saint Vincent de Paul Society since 2011, and was elected National President in March 2019. She is currently a member of the Society's international board.
Ian Cameron is an enlightened Plenary Council member for the Archdiocese of Adelaide. A former member of the SA Police, Ian has extensive experience in parish life from finance councils to children's' liturgy, working with Vinnies and Teams, and much more.


*Starting times around Australia and New Zealand
ACT, NSW, QLD, TAS, VIC: 7.30pm
NT, SA: 7.00pm
WA: 5.30pm
NZ: 9.30pm
To determine your local time zone for those of you registering outside of Australia, click here.

Yarra Theological Union is a College of the University of Divinity. It is Catholic in tradition and ecumenical in outlook.
In 2022, YTU is Celebrating 50 Years of Theological Education.